Welcome to

River Falls 
---
YOUR

Story Starts Here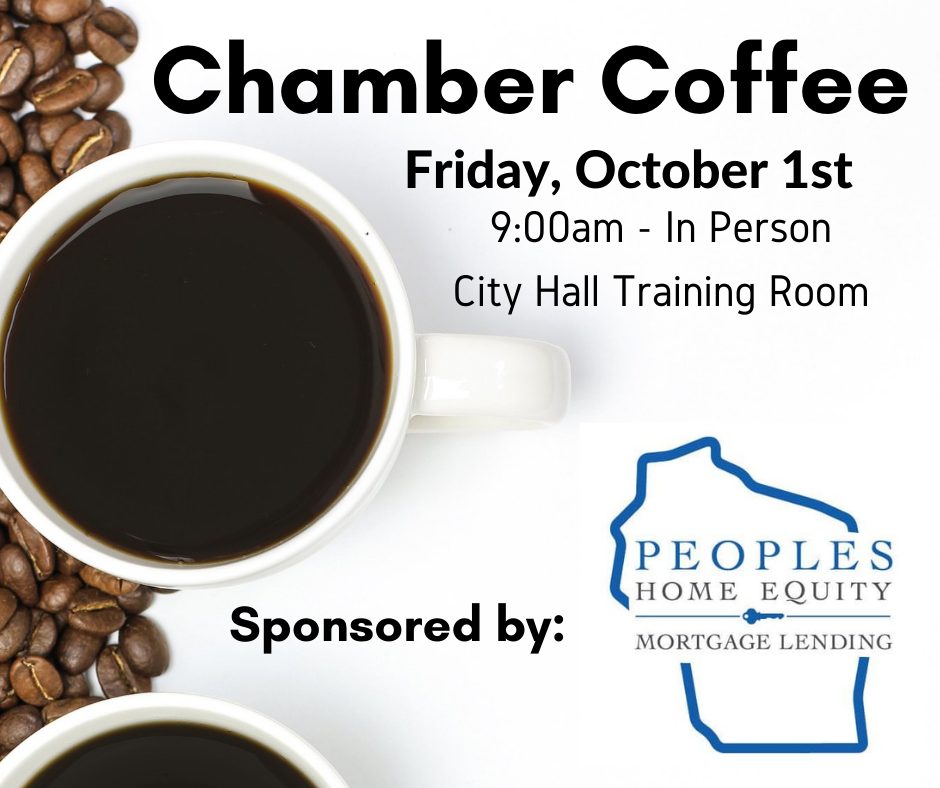 Chamber Coffee
Grab a cup of coffee from a local business and join us for Chamber Coffee on Friday, September 10th at 9:00 am! Join the fun of connecting with other businesses and the Chamber, while sharing what's going on with your business.
Thank you to our sponsor, People's Home Equity! Find out what's new and stay updated on Chamber news, local events, assistance programs and guidelines, recovery planning, and more. Stay until the end and be entered into a special prize drawing!
All attendees will be entered into a PRIZE drawing.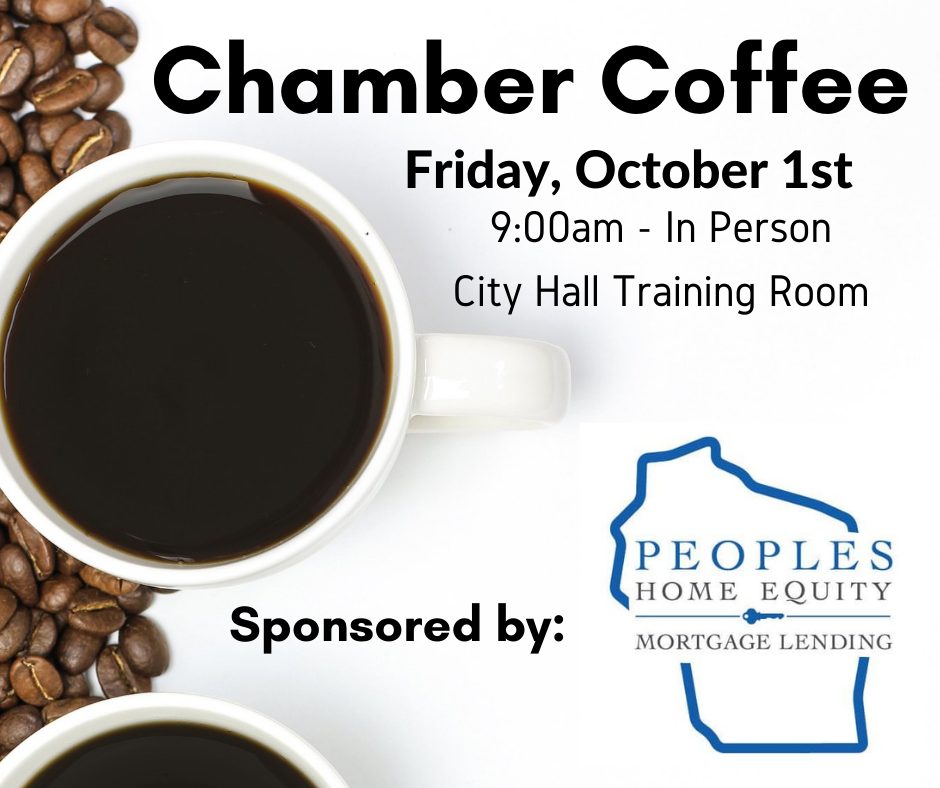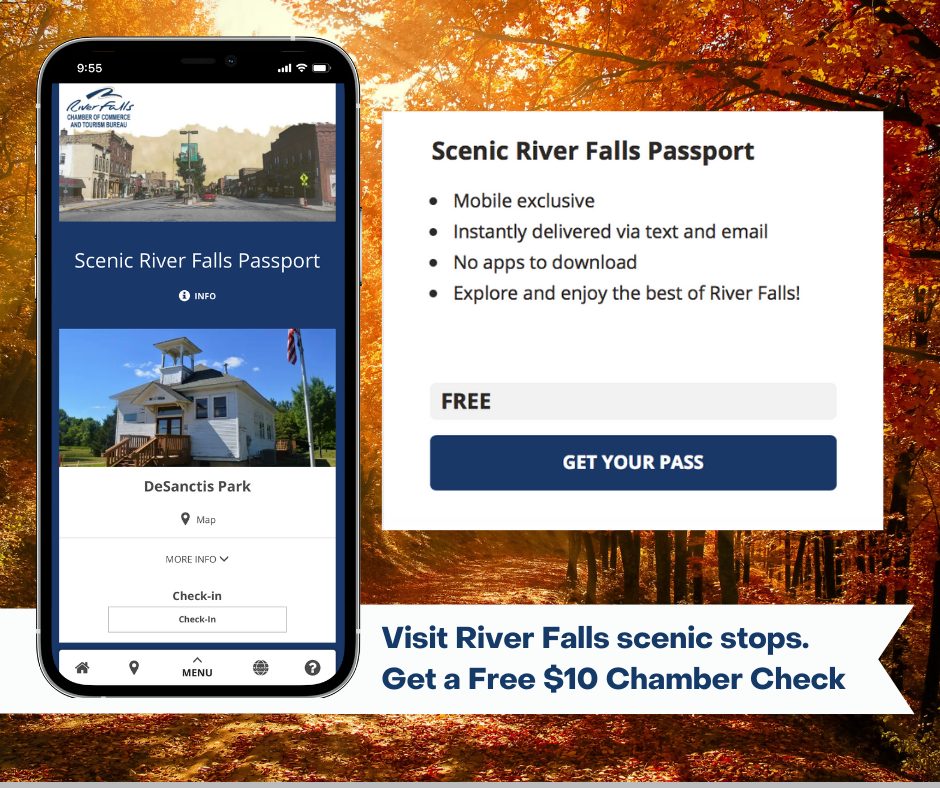 River Falls Scenic Passport
River Falls invites you to visit and see all that we have to offer. Use the Scenic River Falls Passport to visit twelve stops of scenic interest and see why beautiful city is called western Wisconsin's Hometown. Along the way you will be able enjoy many bars, restaurants, breweries, gift shops, thrift stores and specialty food stores that make River Falls one of western Wisconsin's favorite destinations.
Visit and check-in at six or more of the scenic stops in the passport and we will send you a $10 Chamber Check to be used at dozens of River Falls businesses on your next visit. AND you will be entered to win a two night stay and $100 gift certificate for your next fun weekend!
Take a great photo? Use
#ScenicRF
to show us! We hope you enjoy visiting our beautiful city.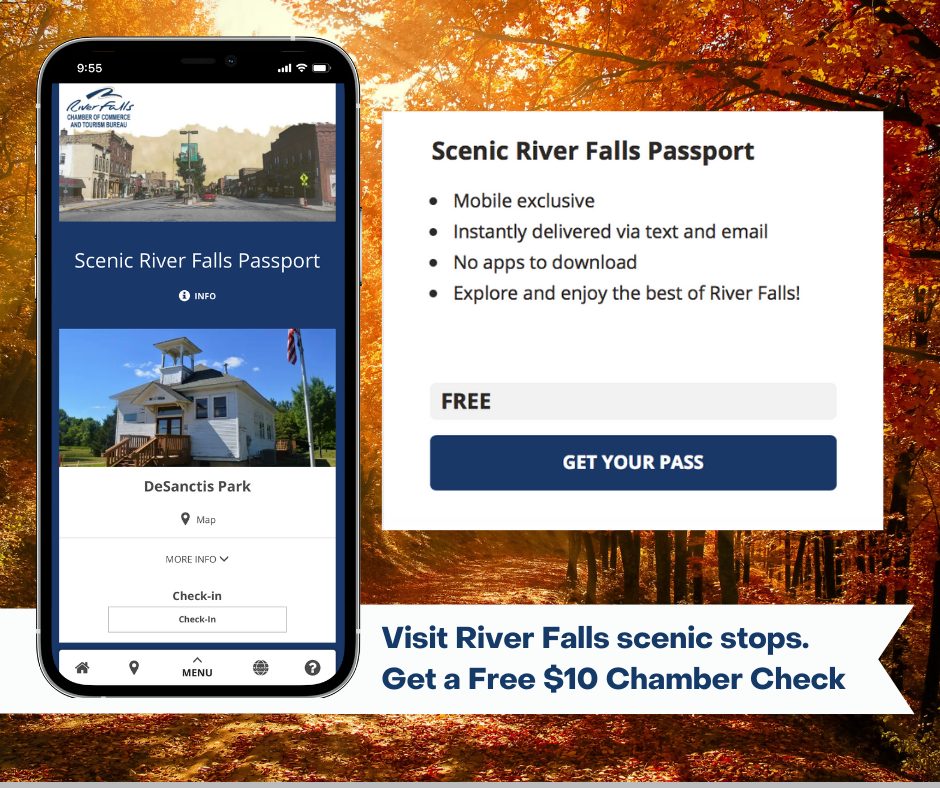 Whether you're a startup or a well established business, we are here advocating for you and your business.
Lose the commute or go from desk to trout fishing in 15 minutes. River Falls offers career opportunities for all professions in a safe and friendly community that feels like home.
The River Falls Chamber of Commerce and Tourism Bureau invites you to experience River Falls—the City on the Kinni.
About Us
The River Falls Chamber of Commerce and Tourism Bureau is a membership-based, nonprofit business organization that has been proudly connecting, promoting, and supporting its members to further enhance the local economy and cultivate a sense of community since 1955. Located just minutes from the Twin Cities, River Falls is a vibrant city situated on the beautiful Kinnickinnic River. Whether it's fly fishing and kayaking or art fairs and music festivals, the city on the Kinni is a great place to live, work and play.
Start Your Wisconsin Story Here
Russ Korpela
Executive Director
Emily Kovach-Erickson
Event & Program Manager
Alexandra Pashina
Marketing & Communications Specialist