Keep the Cheer Here this holiday season!
Join the River Falls Chamber of Commerce for various events including Shop Local Holiday BINGO, 12 Days of Cheer, the Holiday Raffle, Light up the Kinni, and MORE! Click the button below for a full schedule of events.
Santa's Ride Around Town: November 27 at 4:00 pm
Santa Clause is coming to town!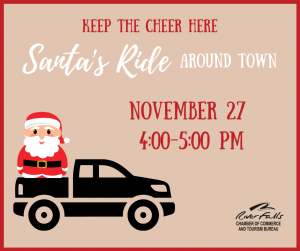 Don't miss Santa's ride around town on Friday, November 27th! Due to his hectic schedule, Santa will not stop in the neighborhoods, but will drive by waving and wishing everyone a very Merry Christmas. He will also be joined by the River Falls Royal Ambassadors.
Santa's journey through River Falls will run from 4:00-5:00 pm. He will stop downtown at 6:00 pm as Main Street lights up for the holiday season! Santa will end his evening at the Holiday Fireworks at 7:00 pm. Stay tuned for a special map of Santa's route through neighborhoods. A special thank you to the River Falls FFA Alumni for helping put this event together.
Holiday Fireworks: November 27 at 7:00 pm
D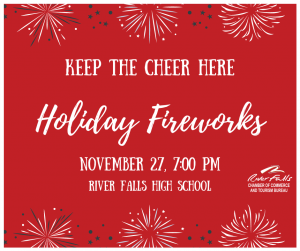 on't miss the Holiday Fireworks show next Friday, November 27th, at 7:00 pm!
This Drive-In fireworks show will be held at the River Falls Public High School main parking lot on the east side. For safety purposes, all guests must remain inside their vehicles for the entirety of the show.
Kick off the evening at 6:00 pm in downtown River Falls as they turn on holiday lights! Then grab your favorite take-out treats from a local business to enjoy at the fireworks show.
*Note: There are 250 parking spots available - so make sure to get there before 7:00 pm to ensure you have a spot!
Holiday Raffle: December 2020
WIN BIG this holiday season with the Holiday Raffle!
Tickets are $10.00 and you can WIN EVERY DAY in the month of December. If you win, your name gets put back in and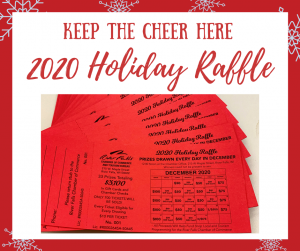 you can win AGAIN!
Prizes are as follows: Monday – Friday, $50.00 Chamber Check or $50 Gift Card to a local business; Saturdays, $75.00; and Sundays, $100.00.
Special drawings will be held on Christmas Day, 2/$500.00; and New Year's Eve Day, 2/$175.00. Winners will be posted on this page, on the Chamber's Facebook page.
All proceeds will help fund Shop Local and Tourism programming for the River Falls Chamber of Commerce Bureau.
TICKETS ON SALE NOW! Call the Chamber office at (715) 425-2533 to purchase your tickets. We can mail your tickets to you or you can schedule a time to pick them up.
WINNERS:
December 1: Lori Edmundson
December 2: Cindy Campbell
Light Up the Kinni: Voting Open until December 16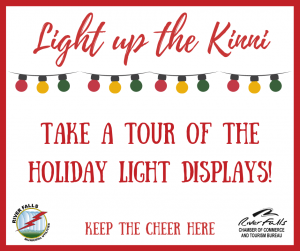 Help us Light Up the Kinni! The Chamber has partnered with the River Falls Municipal Utilities for the Light Up the Kinni at-home light decorating contest.
Take a tour around town and find all of the holiday light displays! Use the simple digital map below to make planning your route a breeze. The map is split up into 3 zones based on different areas of town. Zone 1 is Red, Zone 2 is Green, Zone 3 is Blue. Split up your Holiday Lights tour into separate zones to make sure you have time to see them all!
Participants have decorated their homes with their best holiday light displays for their chance to WIN big! Judges will determine the first, second, and third place winners that will be announced on December 18th. There will also be a People's Choice Award with the option for residents to vote on their favorite light display!
VOTE for your favorite light display online HERE! You can also download the Address Voting form and submit your vote in person. Simply print out the form, circle your favorite light display address, and submit it to our Holiday Drop-Off box at the Chamber office at 215 W Maple Street. Voting will run until December 16th. The house with the most votes will be the People's Choice Award winner. Thank you for participating!
Rules:
Entries will be accepted until 4:00 pm on Monday, November 30, 2020

All entrants must be located in the City of River Falls

Decorations must be in place by Tuesday, December 1, 2020

Contestants will leave light display up until 9:00 pm each night from December 1 through December 25, 2020

Size or number of lights are not primary criteria

Judging will be based on design, effort, creativity, and overall presentation. A panel of judges will visit each entry on the evening of December 16, 2020.

Decorations must be visible from the street
Awards:
Winners will receive Chamber Checks. 1st - $300, 2nd - $200, 3rd - $100

A People's Choice award will also be given based on a vote. Winner will receive a local merchandise goody basket.

Recognition signs will be placed in the yards of the winners

Winners shall return signs to the Chamber office any time after January 8th, 2021

Winners will be announced on the Chamber Facebook page on Friday, December 18, 2020.
Shop Local Bingo: November 27-December 27
Shop local this holiday season!
Pick up your Shop Local BINGO card from a participating business, or click HERE to download one to print. Go to any of the businesses on the BINGO card and spend a minimum of $20 to get your BINGO sticker.
Get a BINGO? Write your name and phone number on the back of the card, drop your card off in the holiday drop off box outside the Chamber office at 215 W. Maple Street by December 27th to be entered into a cash prize drawing.
Winners will be announced on the Chamber Facebook page on December 28th.
CLICK HERE TO DOWNLOAD A PRINTABLE BINGO CARD!
Full list of participating businesses: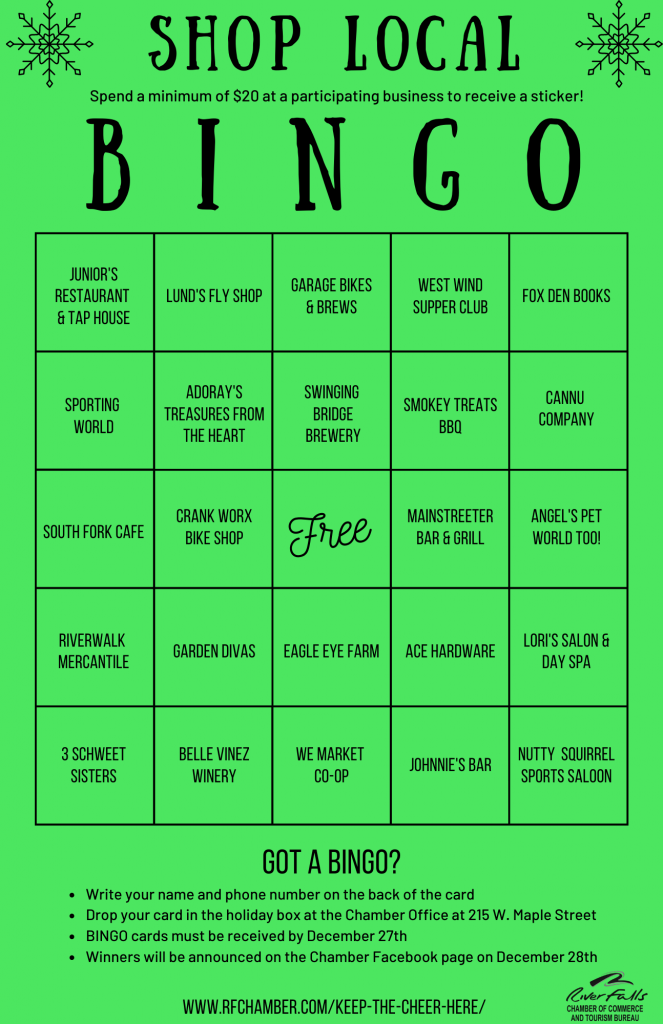 12 Days of Cheer: December 12-23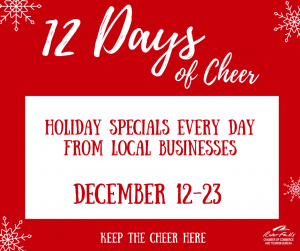 What better way to spread Holiday cheer than by celebrating local businesses?
Visit the Chamber Facebook page during the 12 days leading up to Christmas to find holiday specials and deals from local businesses! Check out participating businesses and their upcoming specials below.
Holiday Donation Express: December 12

River Falls residents and businesses are invited to drive thru, donate, and smile at the Holiday Donation Express event on Saturday, December 12th from 12:00pm-3:00pm!
Donations collected will go to support those in the community through the partnering organization, Our Neighbors' Place, Inc.
Holiday Donation Express is hosted by a group of University of Wisconsin- River Falls Marketing Communications students who want to make an impact on the community of River Falls, WI this holiday season like never before. By partnering with Our Neighbors' Place, the event will provide communities, neighbors, and kids alike the food, clothing and desperately needed supplies and warmth they would be missing this holiday season. River Falls residents are encouraged to bring family, friends, and furry four-legged friends for memorable socially distant holiday photo with Santa and spread holiday cheer with this great COVID-friendly holiday experience.
The Holiday Donation Express is presented by the Kinnic Veterinary Service and welcomes all individuals and fourlegged friends to participate in the contactless drive thru at the WESTconsin Credit Union Donation Station.
Donors will drive up and open their trunk for Santa's elves to grab out the bag of donated items. Participants and supporters are encouraged to donate nonperishable food items, hygiene products and household items and/or monetary donations to benefit the community on behalf of Our Neighbors' Place.
Once the unloading of donations is complete, the donor will drive to the River Falls Chamber of Commerce and Tourism Bureau Holiday Photo Opportunity where they will wear their masks, roll their windows down, and smile for a socially distant photo with Santa.
The experience will be complete, and donors can find their final photos posted on the Holiday Donation
Express Facebook page at @HolidayDonationExpress. Families and individuals with a last name between A-M are
encouraged to attend the event between 12:00pm-1:30pm and families and individuals with last names between N-Z are encouraged to attend the event between 1:30pm-3:00pm.
Santa's Elf Hunt: Date TBD
Ho, Ho, Help! Santa has lost 24 of his holiday elves all throughout River Falls. He needs your help to find them!
The elves will be hidden on outdoor public property scattered throughout River Falls. If you find an elf, stop by the Chamber office to redeem your holiday gift! The Chamber office is open Monday-Friday 8:00 am-4:00 pm and is located at 215 W. Maple Street, River Falls.
Santa's Elf Hunt date is TBD. Stay tuned for details!