Join us for Virtual Bacon Bash happening September 14-20, 2020!
Follow our Bacon Bash Facebook page & this website to stay updated on all things bacon!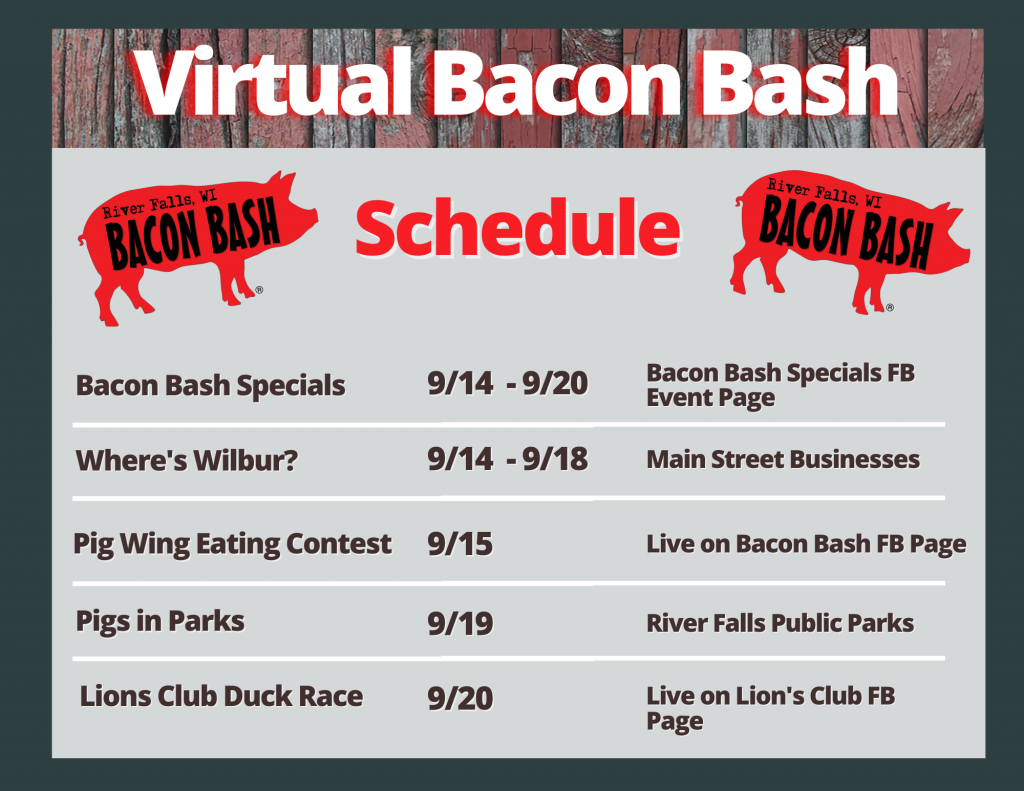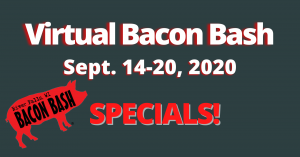 River Falls businesses are ready to celebrate all things BACON!
Click below to find Bacon-themed specials and discounts local restaurants and shops. Make sure to check out the
Bacon Bash Specials Facebook Event
too for even more updates!
If you're a local business and would like to participate, please email your specials to the Chamber at info@rfchamber.com.
Join us for a Virtual Pig Wing Eating Contest!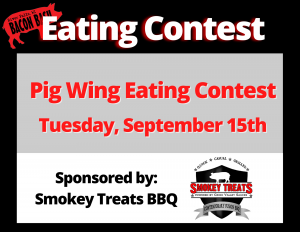 The contest will be held on Tuesday, September 15th at at 4:00 pm at
Smokey Treats BBQ
. The winner will receive a special prize! The contest will be streamed live on the Bacon Bash Facebook.
If you wish to participate in the eating contest, contact the Chamber at (715) 425-2533 or email marissa@rfchamber.com.
Can you find Baby Wilbur the pig?
Baby Wilbur will be hidden in a different local downtown business each day from Monday, September 14 - Friday, September 18. Find out how you can win a prize with Wilbur by following the instructions below!
Find Wilbur in a local business
Take your picture with Wilbur
Post your picture in the comments of the daily "Where's Wilbur?" Facebook post
Get entered to win a Bacon Bash prize! You can post 1 picture comment/day and each picture comment counts as one prize entry.
Join the quest to find one of the 20 pig figurines that will be scattered through River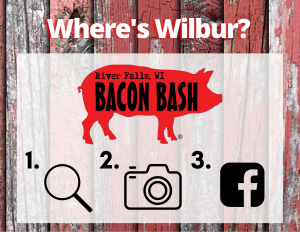 Falls public parks. The pigs will be hidden on Saturday, September 19th. Each person who finds a pig will win a Bacon Bash prize!
There will be one GOLDEN pig! The person who finds the golden pig will win an extra golden prize.
If you find a pig call the Chamber office during the week of September 21-25th at (715) 425-2533 to claim your prize.
*Limit 1 pig/prize per person.
Depending on the local status of the pandemic at the time, this event may be held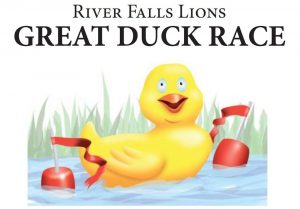 virtually, or in person if possible. We will provide updates as the event grows nearer.
Assuming an in-person race:
Come on down to the banks of the Kinnickinnic River for the 5th Annual River Falls Lions Club Great Duck Race on Sunday, September 20th @ 1:00 pm during the River Falls Bacon Bash!
$20 Buys a duck in the race, with great cash prizes!
1st place GRAND PRIZE of $1,000!
2nd place = $500
3rd place = $250
4th place = $150
5th place = $50
Cash prizes PAID OUT at the end of the race!Need not be present to win, however, the $1,000 GRAND PRIZE WINNER will also receive a $50 BONUS prize if they are present on the day of the race!
All proceeds go to support the efforts of the River Falls Lions Club towards the benefit of local non-profits, charities, and families within our community. This year's proceeds will primarily go to support local organizations most impacted by the pandemic. For updates, visit the
Facebook event page
.