What's New?
Chamber Coffee with Maximize Your Membership - Friday, November 9
Join us for Chamber Coffee on Friday, November 9th from 8:30-9:30a in the City Hall Training Room. Sponsored by B-Wireless. Share what is new with your business and hear what is new with other members. Afterwards, you are welcome to stay for a Maximize Your Membership session where we will cover topics related to membership benefits.
Business After Hours - Tuesday, November 13
Business After Hours is designed for Chamber members and community leaders to meet, potentially generate new business, all while sharing business information and ideas in a social atmosphere. If you have any questions about the Chamber, Business After Hours is a great time to come and see what the Chamber does.
From 5:00 -6:30p, bring a co-worker and client and enjoy complimentary beverages and appetizers!
River Dazzle - Friday, November 23
Kick off the holiday season and join us for the 21st Annual River Dazzle celebration on Friday, November 23rd from 1:00-7:00pm. The festivities include Mr. & Mrs. Claus, costumed carolers, a chili crawl, and other fantastic activities. Click here for a full schedule of events. Bundle up the whole family & head downtown!
Member Center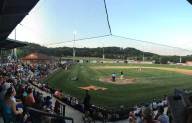 Visitor Information
Events & Programs
Community Resources
Your Chamber
Welcome to the River Falls Chamber of Commerce and Tourism Bureau
The River Falls Chamber of Commerce and Tourism Bureau is a membership-based, nonprofit business organization that has been proudly working together to connect, promote, and support its members to further enhance the local economy and cultivate a sense of community since 1955. Located just minutes from the Twin Cities, River Falls is a vibrant city situated on the beautiful Kinnickinnic River. Whether it's fly fishing and kayaking or art fairs and music festivals, the city on the Kinni is a great place to live, work and play.