What's New?
Now Accepting Nominations for Chamber Annual Awards and Recognition Banquet

We are now accepting nominations for our Annual Awards and Recognition Banquet! Nominations are being accepted in four categories: Business of the Year, Small Business of the Year, Non-Profit of the Year, and Citizen of the Year. Nominations will be accepted through
Friday, November 17.
Voting will take place shortly thereafter. Award winners will be recognized at the Chamber Annual Awards and Recognition Banquet on Thursday, February 1, 2018. To nominate an individual and/or business, click
here
.

Chamber Coffee - November 17

Stop in for Chamber Coffee sponsored by
Wireless World - Verizon Wireless Retailer
on November 17 from 8:30-9:30 a.m. to share what is new with your business and hear what is new with other members. Visit for the whole hour or just for a few minutes and enter to win a great door prize.
River Dazzle - November 24

Kick off the holiday season during the 20th Annual River Dazzle celebration on Friday, November 24 from 1:00 - 7:00 p.m. Enjoy a variety of great events and activities occurring throughout the day including a visit from Santa & Mrs. Claus, a Chili Crawl, live ice carving, a lighted parade and much more! Check out the
River Dazzle event page
for additional details!
Member Center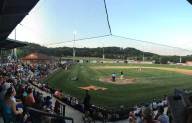 Visitor Information
Events & Programs
Community Resources
Your Chamber
Welcome to the River Falls Chamber of Commerce and Tourism Bureau
The River Falls Chamber of Commerce and Tourism Bureau is a membership-based, nonprofit business organization that has been proudly working together to connect, promote, and support its members to further enhance the local economy and cultivate a sense of community since 1955. Located just minutes from the Twin Cities, River Falls is a vibrant city situated on the beautiful Kinnickinnic River. Whether it's fly fishing and kayaking or art fairs and music festivals, the city on the Kinni is a great place to live, work and play.