What's New?
River Dazzle - Friday, November 23
Kick off the holiday season and join us for the 21st Annual River Dazzle celebration on Friday, November 23rd from 1:00-7:00pm. The festivities include Mr. & Mrs. Claus, costumed carolers, a chili crawl, and other fantastic activities. Click here for a full schedule of events. Bundle up the whole family & head downtown!
Business Breakfast - Thursday, December 6
Chez Raginiak, Award-winning author and speaker, will be presenting, "Kiss Your Customers Hello, So You Never Have To Kiss Them Goodbye," a program about steps to build customer loyalty. In this uplifting and fun program, Chez packs your session with effective ideas that will explain how to avoid the current traps for the brick-and-mortar companies created by online stores and service providers. Click here for more information and to register for the breakfast.
Sponsored by WESTconsin Credit Union.
Chamber Coffee - Friday, December 14
Share what is new with your business and hear what is new with other members. Stop by for the whole hour or just for a few minutes and enter to win a great door prize. Click here for more information.
Sponsored by the River Falls High School Athletic Booster Club.
Member Center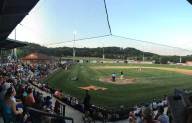 Visitor Information
Events & Programs
Community Resources
Your Chamber
Welcome to the River Falls Chamber of Commerce and Tourism Bureau
The River Falls Chamber of Commerce and Tourism Bureau is a membership-based, nonprofit business organization that has been proudly working together to connect, promote, and support its members to further enhance the local economy and cultivate a sense of community since 1955. Located just minutes from the Twin Cities, River Falls is a vibrant city situated on the beautiful Kinnickinnic River. Whether it's fly fishing and kayaking or art fairs and music festivals, the city on the Kinni is a great place to live, work and play.