What's New?
Annual Ambassador Golf Outing - August 17
Join us for the Annual River Falls Chamber Ambassador Golf Outing on Friday, August 17, 2018 from 9:00a - 4:00p at the Clifton Hollow Golf Club. Treat your employees, preferred customers and/or clients to an afternoon of fun and camaraderie. Learn more about the event and sponsorship opportunities and/or register your golfers here.
Business Breakfast - August 23
Join us for Business Breakfast on Thursday, August 23, 2018 from 7:30a - 9:00a at the West Wind Supper Club, sponsored by Security Financial Bank. Click here to register today.
6th Annual Bacon Bash - September 15-16
Celebrate all things bacon at thhis porktacular, two-day festival! The event from 10:00a - 7:00p on Saturday, September 15 and 10:00a - 4:00p on Sunday, September 16 will feature a World Food Championship World Qualifier Cook-Off Competition, pig-themed activities for the entire family, live music, merchandise from local artists, and much more! Check out www.riverfallsbaconbash.com for additional details.
Member Center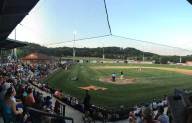 Visitor Information
Events & Programs
Community Resources
Your Chamber
Welcome to the River Falls Chamber of Commerce and Tourism Bureau
The River Falls Chamber of Commerce and Tourism Bureau is a membership-based, nonprofit business organization that has been proudly working together to connect, promote, and support its members to further enhance the local economy and cultivate a sense of community since 1955. Located just minutes from the Twin Cities, River Falls is a vibrant city situated on the beautiful Kinnickinnic River. Whether it's fly fishing and kayaking or art fairs and music festivals, the city on the Kinni is a great place to live, work and play.