What's New?
River Dazzle - November 24

Kick off the holiday season during the 20th Annual River Dazzle celebration on Friday, November 24 from 1:00 - 7:00 p.m. Enjoy a variety of great events and activities occurring throughout the day including a visit from Santa & Mrs. Claus, a Chili Crawl, live ice carving, a lighted parade and much more! Check out the
River Dazzle event page
for additional details!
Business Breakfast - December 7

Join us for
Business Breakfast
from 7:30 - 9:00 a.m. at the West Wind Supper Club on Thursday, December 7. It is unfortunate that, in today's reality, we may find ourselves required to go the extra mile to prove our identities. The recent Equifax breach has many individuals concerned about the detrimental, lifelong impact identity theft could have. As professionals in the banking industry, Tom Pechacek and Chad Edwards from the First National Bank of River Falls have 66 years of combined banking experience protecting and securing customer information from fraud and identity theft. During this Business Breakfast, listen as speaker and event sponsor, First National Bank of River Falls, discusses how fraud and identity theft is affecting the River Falls area. They will also explain what you and your business can do to prevent financial losses or a security breach. Please register
here
.
Chamber Coffee - December 15
Join us from 8:30 - 9:30 a.m. in the City Hall Training Room on Friday, December 15 for
Chamber Coffee
. Share what is new with your business and hear what is new with other members. Stop by for the whole hour or just for a few minutes and enter to win a great door prize!
Member Center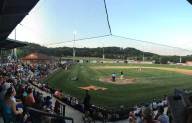 Visitor Information
Events & Programs
Community Resources
Your Chamber
Welcome to the River Falls Chamber of Commerce and Tourism Bureau
The River Falls Chamber of Commerce and Tourism Bureau is a membership-based, nonprofit business organization that has been proudly working together to connect, promote, and support its members to further enhance the local economy and cultivate a sense of community since 1955. Located just minutes from the Twin Cities, River Falls is a vibrant city situated on the beautiful Kinnickinnic River. Whether it's fly fishing and kayaking or art fairs and music festivals, the city on the Kinni is a great place to live, work and play.