What's New?
"Ladies' Night Out River Falls" - October 19

Ladies Night Out features shopping, pampering, refreshments, and more! Join us on October 19 from 4:00-8:00 p.m. for an evening out exploring downtown River Falls and our great local shops and boutiques. Enjoy appetizers and enter to win giveaways at participating locations! Visit our
"Ladies' Night Out River Falls" event page
for more details. We will be accepting applications for participating businesses through Thursday, October 9, 2017. If you are interested in participating, please contact Meghann Witthoft at meghann@rfchamber.com or 715-425-2533.

Chamber Coffee - October 20
Share what is new with your business and hear what is new with other members. Stop by for the whole hour or just for a few minutes and enter to win a great door prize. For additional details, click
here
. This Chamber Coffee is sponsored by
Superior Carpet Cleaning
.

Business Breakfast - October 26

Did you know that Wisconsin is one of the strongest manufacturing states in the nation? Within Wisconsin, companies make an impressive and incredibly diverse list of products, from U.S. Navy combat vessels and Harley Davidson motorcycles to the world's best cheese and craft beer. However, what do we know about the many great items made right here in our own backyard: River Falls? Join us for this month's Business Breakfast, sponsored by the
NCCM Transformation Foundation
, where you will have the opportunity to learn more about locally-owned companies, including
Swinging Bridge Brewing Company
and
Best Maid Cookie Company
, a division of Rise Baking Company! For more information, click
here
.


Trick-or-Treat! - October 31

Join the River Falls Chamber of Commerce and Tourism Bureau and
Big Brothers Big Sisters of Northwestern Wisconsin
on October 31 from 1:00-5:00 p.m. for trick-or-treating at local businesses in River Falls. If you are a business and would like to participate in this Halloween celebration, please visit the Chamber office at 215 W Maple Street to pick up a promotional poster. Visit the
Trick-or-Treat! event page
for more details.
Member Center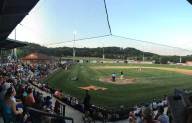 Visitor Information
Events & Programs
Community Resources
Your Chamber
Welcome to the River Falls Chamber of Commerce and Tourism Bureau
The River Falls Chamber of Commerce and Tourism Bureau is a membership-based, nonprofit business organization that has been proudly working together to connect, promote, and support its members to further enhance the local economy and cultivate a sense of community since 1955. Located just minutes from the Twin Cities, River Falls is a vibrant city situated on the beautiful Kinnickinnic River. Whether it's fly fishing and kayaking or art fairs and music festivals, the city on the Kinni is a great place to live, work and play.